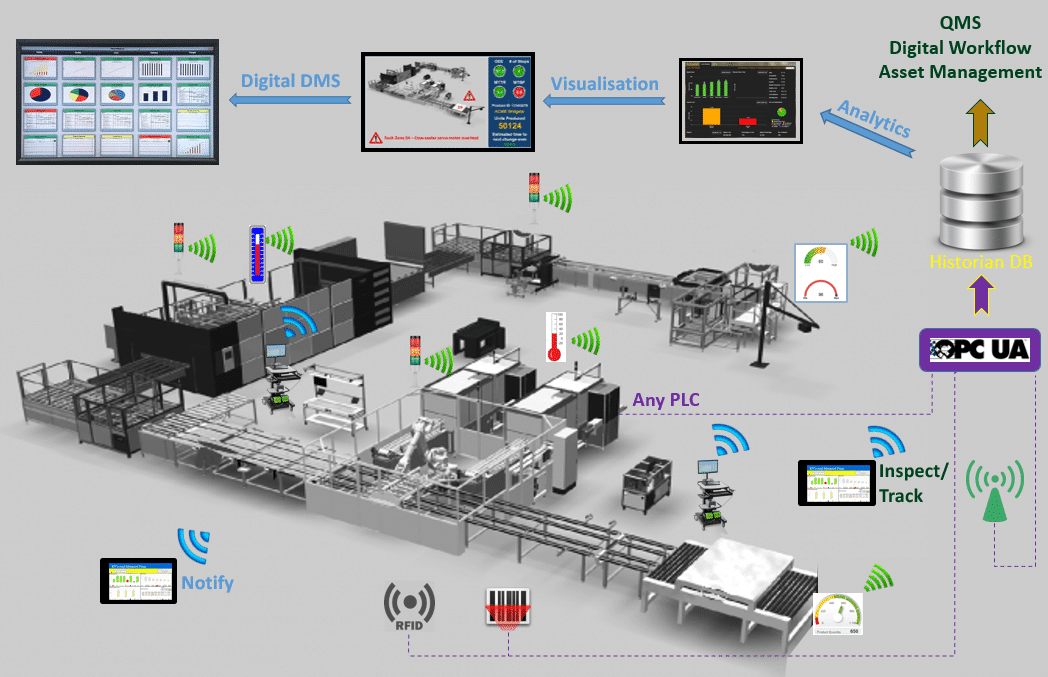 Understanding your factory using data acquisition coupled with our analysis tools and visualisation tools to get an understanding of what's happening on your factory floor
The demands of global competition have rapidly increased in the last five years. SmartFactory's data acquisition system is at the forefront of Industry 4.0 technologies and can empower your business to meet and exceed the challenges of the modern market.
SmartFactory provides an easily installed automated data acquisition system that can be operational within hours and can be easily retro fitted. Our Smart Digital Display technology using our analysis tools and visualisation tools can help identify hidden loses in any production process and reduce planned and unplanned downtime minimising changeover and maintenance time and greatly reducing the need for costly line validations.
SmartFactory highlights losses in real time. By wirelessly gathering data you can dispense with critical data errors that are frequently overlooked by legacy information collection systems, changing behaviour, improving throughput and increasing overall productivity by five to ten percent.
With SmartFactory, you can: Eliminate the wasteful effort of preparing and printing paper reports and digitise the daily management process. Present with our analysis tools and visualisation tools, real-time KPI dashboards to motivate staff and drive productivity. Analyse mp4 video clips of lead-up to downtime events with our Live Downtime Viewer.
We have a proven record of accomplishment of delivering high value automation and data acquisition projects to multinational companies for more than 20 years. Our own solutions are complemented by the industry proven technology of our hardware partners Siemens and Banner Engineering, and our data acquisition, analytics and visualisation tools are best-in-class. If you are interested in finding out more about how you can apply this industrie 4.0 solution and would like to find out more about how this revolution in IOT technology can help improve efficiency on your factory floor then feel free to contact us at info@smartfactory.ie or call +353 61 518443.
Welcome to SmartFactory, efficiency through innovation.