Using Industry 4.0 IoT technology to change how your factory runs.
Digitising the physical world, The Internet of Things or Industry 4.0 has received enormous attention. We will show you how to look beyond the hype and to understand practical ways IoT technology can create real economic value for your business. The ability to electronically monitor and manage equipment and products in the physical world, makes it possible to bring data-driven decision making to new realms of human activity and to optimise the performance of systems and processes.
We have developed a solution to capture, analyse and visualise key performance indicators from the manufacturing, logistics and utility sectors, using smart Industry 4.0 technology. Our smart solutions reduce the amount of time and resources required to capture and communicate critical information across your organisation and dynamically translate this data into actionable intelligence. They empower employees to take the appropriate corrective action to help eliminate losses and promotes a sense of ownership and collaboration. Our secure OPC architecture can communicate to virtually every type or brand of PLC. Smart wireless sensors facilitate the capturing of data from non-networked machines or semi-manual/manual processes. Intuitive mobile touch screen devices convert manual paperwork into lean digital workflows. Interactive smart digital displays eliminate the wasteful effort of preparing and printing paper reports and help to digitise the daily management process. Continuous product and process improvement and the elimination of waste, is a fundamental principle of lean manufacturing. Capturing and visualising data to highlight losses in real-time has been proven to change behaviour, improve throughput and quality and has been shown to improve overall productivity by 5-10%.
Our solutions are built on the industry proven technology of our hardware partners Siemens and Turck-Banner and our data acquisition, analysis and visualisation tools are in use across the globe and are considered best-in-class. We integrate with existing processes and control systems to automatically capture critical data and make it actionable in real time. We help identify hidden losses, thus reducing planned and unplanned downtime, increasing productivity and maximising efficiency.
Research has shown that most data that is captured from a manufacturing environment is used for anomaly detection and control – and not optimisation or prediction. We can help you to get more out of your physical assets, improving the performance of machines, extending their lives, and learning how they could be optimised or redesigned to do even more.
Read More
Articles
Manumatic Data Entry Systems (MDES)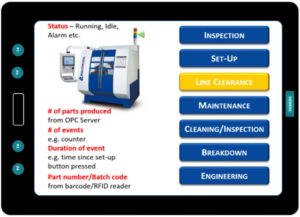 We have developed a Manumatic Data Entry System which includes tough tablet PC's (up to IP65 and ATEX Zone 1) and wireless buttons (up to IP69K), sensors and light stacks.
The manumatic (part-manual, part-automatic) system counts the number of units, rework and scrap produced and provides a visual indication when the semi-automatic production process is running at the required cycle speed.
The operator logs in to the "work-cell" using the barcode or RFID reader on the tablet.
The system reports equipment efficiency (OEE) and any other relevant KPI's in real-time, per work-cell and can also be used to report the output per operator. If the cycle-time of a given process exceeds a pre-set target, the operator is prompted to add a comment/explanation via a pop-up on the tablet.
Even some of the most successful companies believe that the costs and effort to implement a data gathering system on legacy or stand-alone machines are prohibitive or won't provide them with the information they require.
Therefore, we have developed a solution to wirelessly gather production information from any type of equipment, using low-cost IIoT devices. These devices can wirelessly transmit the running state of any machine and can be used to track key process parameters or production rate. They can even be used to monitor vibration levels on equipment and when used in conjunction with our maintenance and predictive analytics software, can be used to help prevent breakdowns.
Find Out More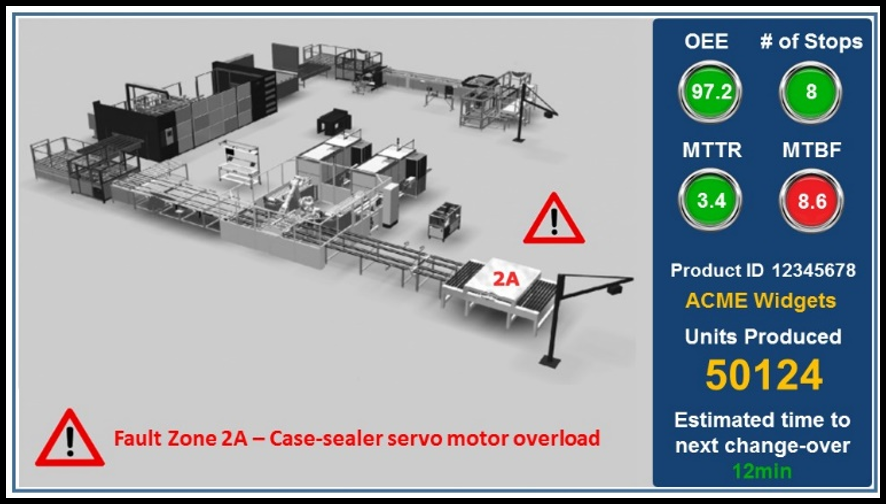 SmartFactory allows you to display your choice of information in real-time, on any screen, to any part of your organisation.
Our Smart Industrie 4.0 / Industry 4.0 Digital technology makes your information visible and actionable to the right people, in the right location, at the right time. Whether data comes from the production line, the warehouse, the call centre or HR, our fully customisable technology helps you to communicate efficiently and effectively across your business.
Find Out More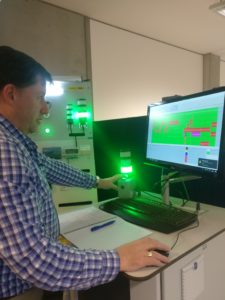 Industrial Vision Systems are designed to improve the Overall Equipment Effectiveness (OEE) of any manufacturing production line.
Enabling on the spot root cause analysis and the ability to track and visualize your downtime events, you can save on product waste, decrease product turnover times, and increase revenue.
Find Out More
Computerised Maintenance Management Systems (CMMS)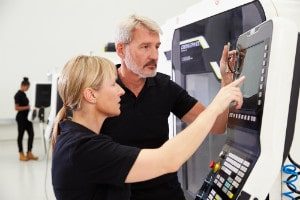 Operational downtime is a significant issue facing Original Equipment Manufacturers (OEMs). In most cases, the machinery involved runs without condition-based monitoring—essentially operating until a failure occurs. At that time, appropriate personnel are contacted to assess the situation and make the repairs as expeditiously as possible to prevent dramatically delaying production schedules.
Eliminate this trend of reactive maintenance and unplanned downtime by utilising the information gathered from our tough-tablet based CMMS solution. Using predictive analytics, we can also help to optimise equipment uptime.
Find Out More
Identification & Tracking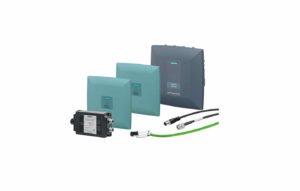 In order for the Internet of Things to be really useful to manufacturing companies, there needs to be a system for capturing data from the various activities and items in the process – SmartFactory Identification and Tracking Products provide ideal solutions to this…
RFID can tell you what an object is, where it is, and even its condition. Advanced vision systems provide reliable, flexible reading and verification of 1D/2D codes, text recognition(OCR) and object recognition.
With SmartFactory customised hardware and software, production staff can see where inventory, materials and assets are in real time and react accordingly. SmartFactory can design an Identification system for your business needs.
Read More
Stationary Workstations, a thing of the Past
SmartFactory are a leading provider of innovative workstation solutions to customers in many industries.
Let us show you how industrial stand-up workstations can be replaced by mobile computer workstations with power and easily integrated into your existing infrastructure and processes to improve productivity at your place of business.
Find Out More
View Our Range
MOM (Manufacturing Operations Management) / MES (Manufacturing Execution System)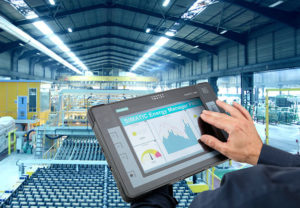 Manufacturing executives have been bombarded by new terms and acronyms over the last number of years; we are in the fourth Industrial Rev­olution, Industrie 4.0 / Industry 4.0, not to mention the Inter­net of Things (IoT), the Industrial Internet of Things (IIoT) and a plethora of three and four letter acronyms. The feeling of needing to do some­thing, but not knowing what can lead to paralysis by confusion.
What is clear is that the fourth Industrial Revolution, Industrie 4.0 / Industry 4.0, is here to stay and it is happening all around us. As it takes hold, it will impact everything that we do; manufacturers and their extended supply chains will change forever as the virtual and real world come together to deliver Smart Manufacturing. MOM/MES software is a critical part of the overall solution and it is critical that your choice of vendor is based on a vendor with primary Smart Manufacturing strategies that align closely with your business.
The first step is the move to an integrated manufacturing environment. Research has shown that only approximately 20% of factories around the globe have a MOM/MES system. Simply collecting data and making it available to a wide audience within a plant and across the business will lead to almost immediate returns. If everyone from business leader to factory floor operator has access to appropriate real-time information, they will do a better job. More productive people lead to better business deci­sions and more profit. Once information becomes available, analysis, feedback, and action deliver new value, and safer, cleaner factories. Our wireless data acquisition system can be installed in hours, not weeks and can provide significant operational insights and the rapid transformation of work processes.
Find Out More