At Smart factory, we have a wide range of mobile workstations designed for different environments such as cleanrooms, warehouses, and factory floors
At Smart Factory, our mobile computer workstations provide a complete, portable solution for workers, featuring bespoke designs to suit your exact specifications. We can incorporate multiple screens for convenient dual-display, with printing and scanning equipment to catalog products on the move. We can adapt your mobile workstations specifically for cleanroom environments, ensuring full compliance with hygiene regulations, enabling workstations to be easily wiped down to reduce the chance of cross-contamination. As each unit is fully wireless, workers' safety is improved and there is no need for clumsy Ethernet connections: staff can access applications and real-time data wherever they are, whenever they need it.
Features
Instant connectivity to essential real-time data at any location
Multi-screen capabilities and twin-screening applications
Unlimited configuration options, due to modular design
Easy, no-hassle turnkey set-up requiring minimum time and effort
Ergonomic design for comfortable, easy use
Benefits
Easy-wipe-down surfaces reduce the risks of cross-contamination
Full Wi-Fi connectivity connects staff to critical information on the move
A cost-effective alternative to fixed workstations, freeing staff from static terminals
Increases productivity – staff take their workstations with them, updating information on the go
Can be easily incorporated into any workspace and infrastructure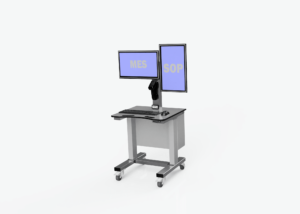 Uses
Print barcode labels where and when needed, while performing other tasks
Run a full-screen or touch computer for as many as eight to ten hours (depending on the usage of printing and scanning facilities)
Conduct operational training outside of busy working areas, reducing interference for staff
Asset management with improved freedom and staff-accessibility
If you would like to find out more about our mobile computer workstations then feel free to contact us at info@smartfactory.ie or call +353 61 518 443.