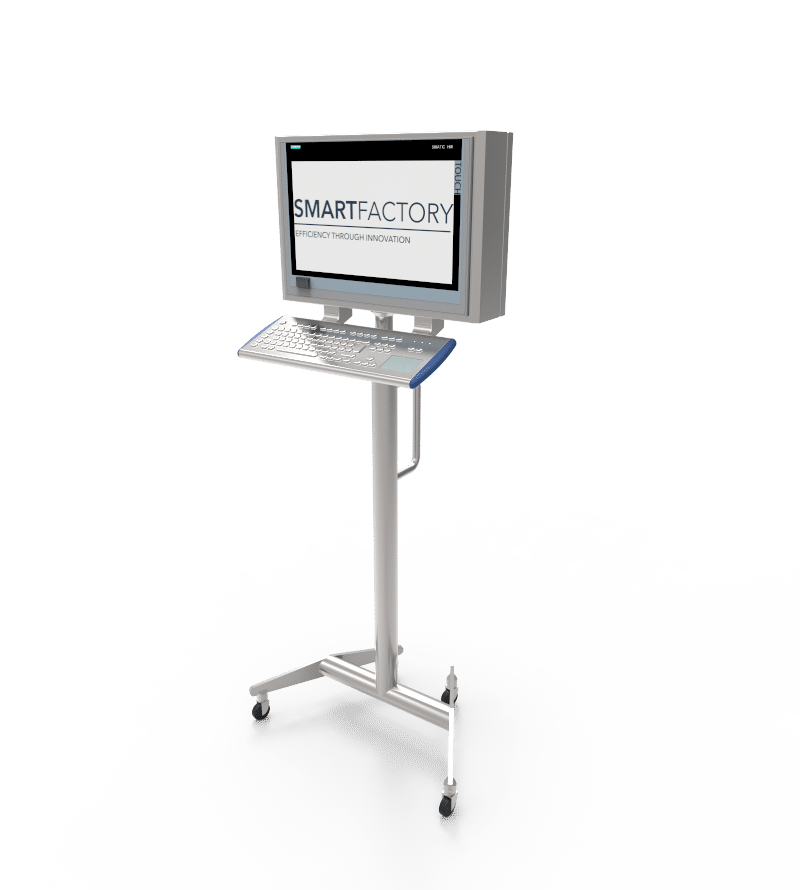 Our SmartCarts can be used in a wide range of applications from cleanrooms to the warehouse.
It is the complete mobile computer workstation solution.
Our SmartCarts or mobile workstations can have a huge impact on how you work on the factory floor.
SmartCarts are ergonomically designed with electronic height adjust for mobile MES / SAP / Pick & Pack/ Goods IN / Put away. Our modular design guarantees inexpensive mobile power applications giving 24/7 usage.
Quick Facts
Ergonomically Designed
Electronic Height Adjustable Via Push Button
Very Manoeuvrable
5yr Warranty On Lithium Battery
Compatible With All Mini / Micro PCs
Fast Charging Times
1 or 2 Screens Can Be accommodated
Battery Status LED
Easy Access To Battery / PC Compartment
Smooth Finish To Wipe Down Surfaces
Mobile device management software to remotely monitor status and battery.
Compact Resin Counter top.
Single strut or Double strut height adjust.
SmartCarts IP65Cart is Siemens IPC based, IP65 rated mobile stainless steel workstations.
Mid Range by SmartCarts Stainless steel IP65Cart is 24VDC & Ethernet combo cable tethered or IP65Cart on board battery power source.
INDUSTRY-PROVEN BENEFITS
• Low-maintenance, highly reliable fan-less design, built on Siemens renowned industrial PC's and monitors.
• High-quality, easy to wipe down 316L electro-polished stainless steel construction.
• Elegant, ergonomic design with optional electronic height adjustment.
• Multiple CPU variants – Thin-client based up to Intel Core-i7 processors.
• Short stroke 102-key keyboard with tactile feedback and capacitive touchpad.
• Optional multi-touch display, suitable for use with gloves
• Dual-display options available.
• Meets the hygiene requirements of the food and life sciences industry.
• IP65 rated – suitable for use in wash-down areas.
• Wired or wireless networking capability.
• Optional integration with wireless barcode/RFID scanners.
• Robust, conductive (anti-static) castors.
• 3-year warranty.
Full screen applications versus 4″ handheld computers are cheaper to implement and it goes without saying easier to see. Hours and hours of time are lost every day as people move over and back to a fixed workstations for data entry and label printing. SmartCarts puts your desk on wheels with mobile power on-board. An optional electronic height adjust also allows sitting and standing positions while in operation.
Please contact us for more information on our mobile computer workstation range and to arrange a demonstration…
Office +353 61 518443
email info@smartfactory.ie
SmartFactory, NEXUS Innovation Centre, University of Limerick, Limerick V94 NYD3, IRELAND